0622
-
Youth Ocean Conservation Summit (YOCS)
6235256
Marine Extension and Georgia Sea Grant - Marine Education Center and Aquarium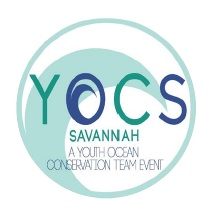 The 2022 Youth Ocean Conservation Summit (YOCS) empowers middle and high school students across the state with knowledge, skills, and resources necessary to successfully implement ocean conservation projects in their local communities. We are thrilled that you are interested in joining us for this year's theme of "YOUR Connection to the Coast!"
The 8th annual summit will take place in-person at the UGA Marine Education Center and Aquarium on Skidaway Island near Savannah on Saturday, February 26, 2022 from 8:30 am to 5:00 pm.
There is a $10 registration fee for this event that will cover participant t-shirts, snacks, and all event materials. Please note that this registration fee is non-refundable.
If you have any questions or concerns regarding the registration process, please do not hesitate to email the 2022 YOCS Planning Committee at fish@uga.edu. Thank you and we look forward to having you join us!
Required fields are indicated by .